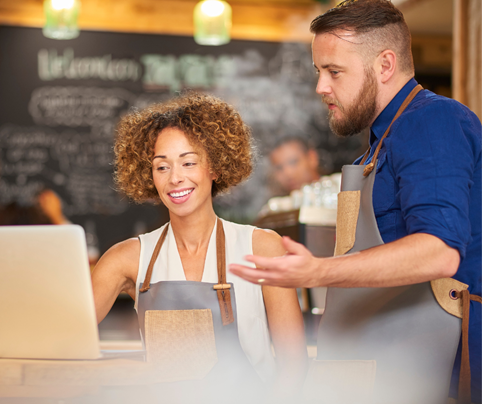 Since running a business involves risks, you need business insurance – but you face risks in more places than just your company's premises. What if something happens outside your office? Your business insurance policy may provide some protection.
Commercial General Liability Insurance
When people talk about business insurance, they often mean commercial general liability insurance.
Terms can vary, but the Insurance Information Institute (III) says commercial general liability insurance typically provides three types of coverage.
Coverage A is for claims that arise due to non-professional negligent acts, involve bodily injury or property damage to third parties, and occur on the premises or in connection with business operations.
Coverage B provides personal advertising injury coverage for claims involving things like libel, slander, and copyright infringement.
Coverage C provides limited medical payments coverage for injuries that occur on the premises or in connection with business operations.
Commercial liability insurance is an important type of coverage that protects against many (but not all) liability exposures businesses face.
Some exposures are tied to the premises. For example, if a client trips on a broken step on your property and decides to sue your business, your commercial general liability insurance policy should provide coverage.
Other exposures relate to business operations and do not have to occur on your premises. For example, if an employee is at a client's house and accidentally damages the client's property, you may have coverage under your commercial general liability insurance policy.
General liability insurance can also provide products and completed operations coverage. According to IRMI, this coverage offers protection again liability arising from the products or business operations after you have completed or abandoned operations. For example, if your company has remodeled a client's bathroom, completed operations coverage can apply to losses that occur later. If your company manufactures or sells products, the products coverage can apply to losses stemming from the use of your product.
In summary, commercial general liability insurance can protect against hazards that occur outside of your office or business premises. However, such polices do not cover all types of risks.
Commercial Property Insurance
General liability insurance provides coverage for third-party losses, but it doesn't cover your own property – for that, you need commercial property insurance. You can sometimes find general liability insurance and commercial property insurance combined into a single business owners policy; otherwise, they're separate.
Commercial property insurance provides coverage for your building as well as the contents, such as furniture and equipment. Policies often also provide some coverage for property removed from the premises.
For example, let's say you have a work laptop you frequently need to take out of the office. If your laptop is damaged or stolen, will you have coverage? It's likely, but you'll need to check the requirements and limits of your policy.
As offsite property coverage can be significantly more limited, you may need additional coverage if you frequently remove expensive equipment from your premises or keep items in offsite storage.
Commercial Auto Insurance
Your greatest risk exposures can occur when you're on the road. Neither commercial general liability insurance nor commercial property insurance will provide coverage for vehicle exposures – you need commercial auto insurance coverage.
If you have any company cars, you'll need to insure them to meet state insurance requirements. In Hawaii, the basic auto insurance requirement is $20,000 for bodily injury liability per person, $40,000 for bodily injury liability per accident, and $10,000 for property damage liability per occurrence. However, you may need additional coverage and higher limits.
III says most insurers recommend a business auto liability limit of $1,000,000, although $500,000 is considered the minimum. If your employees use their own vehicles for business activities (such as running errands), you may need a hired and non-owned auto insurance policy.
Inland Marine Insurance
If your business involves the transport of expensive items such as construction or medical diagnostic equipment, or if you exhibit valuable items at shows or in galleries, you may also need inland marine coverage. This type of insurance is designed to protect valuables while they are in transit or away from your business.
Are You Protected on and off Your Premises?
Coverage gaps can leave your business exposed. Since terms can vary between policies, it's important to review your coverage. Insurance needs can also vary, meaning a business insurance policy that provides another company with adequate protection might be insufficient for your business. A FICOH insurance agent can help you review your risks and secure the coverage you need. Find an agent.