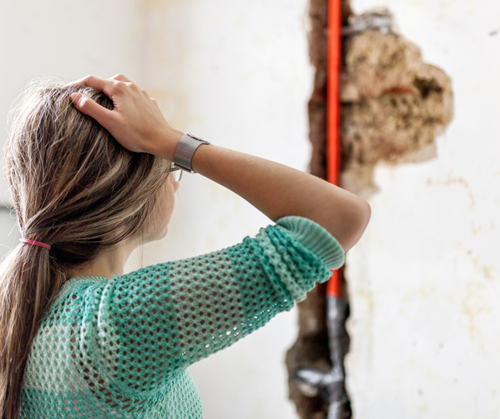 Water is one of the most essential things on the planet, but it can also be one of the most destructive. Water can damage your floors and walls, destroy your belongings, and lead to mold. According to HomeAdvisor, water damage restoration projects usually cost between $1,303 and $5,499. That leads to the question – does homeowners insurance cover water damage?
The answer depends on the type of water damage. A standard homeowners insurance policy only covers some losses. Here are some examples to help you understand what to expect.
Leaky Roofs
You roof is supposed to protect your home from the elements, but a leaky roof can result in water damage.
Your policy may cover leaks, but only if they result from covered damage to the roof. For example, a standard homeowners insurance policy covers fire, wind, and hailstorm damage. If any of these perils are the cause of your leaky roof, your policy should cover the damage. However, homeowners insurance does not cover normal wear and tear. If your roof is leaking because it has exceeded its expected lifetime or because you have not maintained it, do not expect your policy to cover the resulting water damage.
Burst Pipes
Homeowners insurance typically covers sudden and accidental water damage caused by a burst or broken pipe. For example, although only the mountaintops in Hawaii typically see snow, if temperatures ever drop low enough to freeze your pipes and cause them to burst, your policy will likely cover the damage.
Overflows
If your washing machine overflows, will your policy cover the resulting water damage? Possibly.
Although homeowners insurance does not cover mechanical breakdown – meaning it won't pay to repair or replace an appliance that stops working – it can cover sudden and accidental water overflow damage.
Sewage Backup
Sewage backup is a particularly unpleasant cause of water damage. Many homeowners are surprised to learn that standard homeowners insurance policies do not cover this. However, coverage is available as an add-on. If you want sewage backup protection, talk to your insurance broker about adding this coverage to your policy – don't wait until you have an issue.
Flooding
Homeowners insurance does not cover flooding. If a storm surge floods your home or if heavy rains lead to widespread flooding in your area, your homeowners insurance policy will not cover the resulting damage.
Flood coverage is available as a separate policy. You can purchase coverage through the National Flood Insurance Program. Private flood insurance coverage is also available. However, the Insurance Information Institute says that only 27% of American homeowners reported having flood insurance in 2020. Even in high-risk areas, research has shown that most homeowners lack flood coverage.
This lack of coverage can leave homeowners with massive costs after a disaster. According to FEMA, just one inch of water can cause $25,000 in damage to a home. Homeowners should check their risks and consider purchasing coverage.
Mold
Water can lead to mold growth, which can be harmful to both your property and to your health. Whether your homeowners insurance covers mold damage depends on the source of the water. If the water damage is caused by a covered peril, the mold remediation will also typically be covered. However, if the water damage is not covered, the mold will not be covered, either.
Tips for Preventing Water Damage
Even with insurance coverage, water damage can be a major hassle. Take steps to prevent water damage in your home:
Keep your roof in good condition and your gutters clear of debris.
Consider installing a smart water leak detector.
Consider installing a backflow valve.
Know where the home's water shutoff valve is – in case you need to turn off the water quickly.
Check caulking and repair as needed to prevent leaking.
Turn off your water supply before going on vacation.
Don't try to flush items that could clog your toilet.
Does your homeowners insurance policy cover water damage? A FICOH insurance agent can help you review your policy and secure any additional coverage you need. Find an agent.