These days, restaurant owners are dealing with a host of pressures, including everything from staffing and marketing to the prospect of foodborne illnesses and recalls and the reputational risks that come with these threats.
The increase in foodborne illness cases (Eater, 2/23/18) is intensifying these concerns. According to the Center for Disease Control, each year about 48 million Americans are sickened by a foodborne illness such as salmonella, norovirus or hepatitis A. Forty-six percent of those sickened get the illness from a restaurant.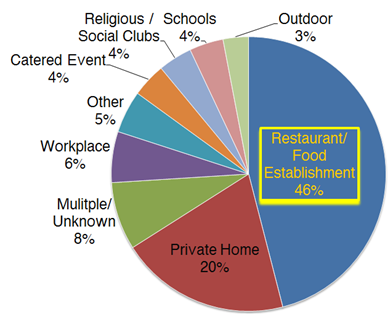 Meanwhile, consumer awareness is at an all-time high. Foodborne illness cases are making their way into the news every day, and the information is disseminated faster than ever. Case in point: A single tweet sent out by a high profile individual regarding a friend's illness sunk Chipotle's (CMG, 316.55) stock by 3.4% (Fortune, 2/23/18). When looking at these cases, we can speculate about what happened and why, but one thing is certain: Restaurants are facing increased exposures and costs.  
The core coverages of a standard business insurance policy include general liability, property, business income and extra expense, and workers' compensation. These coverages protect a business from the majority of loss exposures, however there are some deficiencies. For example, while general liability coverage provides protection for third party bodily injury claims (i.e. an injury resulting from a slip and fall or from ingesting contaminated food), most standard policies do not sufficiently address losses arising from foodborne illness claims or reputational harm.
Restaurant Recovery Insurance, backed by our sister company and leading specialty insurer Tokio Marine HCC, covers these potential gaps by providing comprehensive coverage for your business should you suffer from a contamination incident, malicious product tampering or face baseless adverse publicity. It offers business interruption coverage to get you back to pre-incident sales and can also cover brand name rehabilitation costs and product recall expenses.
Restaurant Recovery Insurance also comes with a 24-hour hotline that offers crisis management advice as soon as a covered incident occurs. Coverage is available to restaurants of any size, single or multi-location enterprises, including individual groups of franchisees. Standard coverage automatically includes income from royalties and a full policy limit for product extortion.
For more information on Restaurant Recovery, contact your independent insurance agent or Dayna Chun at 527-7471.