QUICK PAYOUTS TO HELP YOU WEATHER THE STORM
Unlike traditional hurricane insurance, FirstTrack pays out a predetermined amount based on the strength and proximity of a hurricane, and is designed for both renters and home owners.
Why FirstTrack?
The financial impact of an oncoming storm is often immediate and unexpected. Food spoilage due to blackouts, the cost of emergency supplies—these are just a few of the costs that add up any time a hurricane nears our island home. And when property damage occurs, traditional hurricane insurance can take weeks or months to pay out, and often with high deductibles. FirstTrack pays out quickly, and covers all these sudden, event-related expenses.


---
How does it work?
The claims payment process is triggered once a hurricane, as recognized by the National Hurricane Center (NHC), appears to pose a threat to your county.
Claims payments are determined by two factors: proximity and storm category.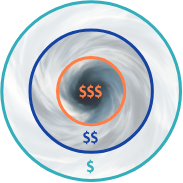 PROXIMITY
Payments are determined by which storm track radius claim zone your property falls within.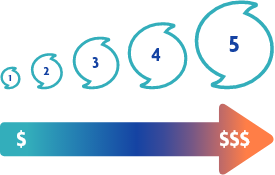 CATEGORY
Payments are also determined by the wind speed as defined by the NHC.
Ready to get started?
Contact your independent agent for a quote. Don't have an independent agent? Click here to find one.
You can also call us at (808) 527-7123 or contact us via email:FirstTrack.ProdSupport@ficoh.com
Please note: Only Hawaii residents with a verified local address are eligible for a FirstTrack policy. Choose between annual limits of $1K-$25K. An active email address and credit card payment are required for purchase.